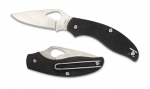 -Price Paid: $29.00
-Used for Every Day Carry
-Owned for 3 months
Comments:
Over the course of time, I have owned most of the compact knives offered by Spyderco and Byrd. However, all of these "office friendly folders" have been traded away due to excess weight, lack of thumb jimping or the inability to be operated with one hand.
Then, by happenstance, I came across the Byrd "Tern". It differs from the "Cat" or the "Robin" in that it is not a back-lock, but rather a non-traditional slip-joint knife. Initially, this was a sticking point with me until I actually handled this folder. What I found is that the front finger choil, in conjunction with a stout back-spring and and excellent jimping, allows for an almost "locked" blade when in use. The 8Cr13Mov blade is large and thick enough for general EDC use, and comes razor sharp from the factory. While this alloy is not a super steel, it is more than adequate for any task that would be asked of this compact knife. As far as the weight goes, well, it seems lighter than my "go-to" Ka-Bar "Dozier". The G10 scales are ergonomically shaped with good traction. Also, I would be remiss in not mentioning the outstanding quality of this pocket knife. In short, the overall workmanship of the "Tern" rivals folders I own which cost six times as much. As a pertinent aside, a black wire pocket clip can be order directly from Spyderco, which I did. In my opinion, this extra measure of discretion is the perfect addition to an already great "office friendly folder". Finally, there is the Spyderco thumb hole versus the Byrd thumb hole debate. Well, in this case, the Byrd thumb hole wins out. With a bit of practice, it actually allows the user to close the knife with one hand.
All in all, the Byrd "Tern" is a must have where warranted by local laws...or for aficionados of smaller EDC knives!