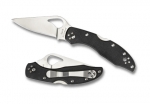 -Price Paid: $21.00
-Used for Every Day Carry
-Owned for Less than 1 Month
Comments:
FRN PLAIN EDGE VERSION
This knife is incredible for the price. It is designed by Spyderco and modeled after their Delica 4 FFG. As it costs about 1/3 of a Delica, I didn't expect it to be nearly as good.
BUILD QUALITY:
Very good. There are a couple fit and finish issues, such as the blade centering being slightly off, and the three pieces of FRN being slightly off level on the back of the knife. Lockup is excellent. Opening is very smooth thanks to two bronze bushings.
ERGOS:
Almost perfect. The handles aren't completely squared off, but aren't sharp/uncomfortable. One of the best features of this knife is the choil. I find the knife much easier to hold using the choil; it provides great point control. The FRN is very grippy and the jimping is decent.
VALUE:
Possibly the best knife in this price range. The steel is good for the price (8cr13mov). The pocket clip is four-way positionable, and rests on the logo, not the grippy part of the FRN as to not tear up your pockets. For 1/3 of the price of the Delica, you get the same knife with worse steel, slightly worse fit