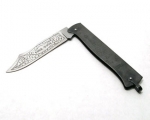 -Price Paid: N/A
-Used for Light Duty/General
-Owned for Greater than 1 year
Comments:
If you're looking for a vintage, good looking, simple, very affordable and razor sharp knife then the small douk-douk is for you.
The oriental shape blade is in fact cutting as heel, probably one the the sharpest blade I have (including a bunch of Benchame, McCusta, Spyderco and Kershaws as well as customs...).
Moreover it's very easy to re sharpen even with "exotic" means (such as the back of a plate, I did it once it works great....)
Ergonomics is not terrific but is OK for day to day light use (including little food prep or eating with)
Last but not least the douk-douk is simple a slip joint knife (even with a hard pring)so it makes it leagal almost everywhere.
I wear mine all day long in my key ring but given the fact is very slim you don't even notice it in your pocket.