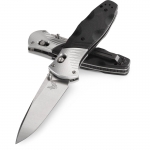 -Price Paid: $147.00
-Used for Every Day Carry
-Owned for 3 months
Comments:
This really is what I would call "Rolls Royce" of Benchmades 5 Series Knives, having said that considering that I purchased the 581SBK with it's asking price of $235.00 it really is overboard.
In my mind and using my own yard stick that is starting to get close to a quarter of a thousand dollars, leaving me with the feeling that it's way over priced.
Practically you have a 580SBK with upgraded scales and blade steel, when comparing the two for me the best feature is Benchmades use of combining Aluminum and G10 as scales.
This over comes my pet hate of using a CHEAP Honeycomb Valox material that is on the 580/585 and prevents the inherent slippery feel (as specially over time with ware) and now with the 581 Combo Scales it gives the knife "Fantastic Traction" in your hands.
But let there be no doubt this knife is for some one with BIG HANDS, its width does give it the meat that some people are looking for who have HUGE HANDS.
As too the M390 Steel in the blade, I suppose it's OK, I personally think that anything above 154 steel is just an added cost for those steel geeks out there and makes it less affordable for others...:)
This really is a knife that I will be putting away in the Gun Safe as a KEEPER, as it is an Engineering Marvel...!!!
The bottom line is a simple one if you have BIG Hands and DEEP Pockets BUY ONE, you won't be disappointed...:)
It does have me salivating for perhaps a "586 Mini" version for EDC and I would be first in line for that little gem if it ever comes out...:)
---
Comment by John 08/27/2017
I have small hands, but I LOVE this knife. Believe me, I have small hands for a guy. Most fixed blade knives I could grind at least 1-1/2 to 2 inches or more off of the handle end and never miss it. I have the 581 and carried a Warn 583 (same handle with a tanto blade) for years and I love them more every day.