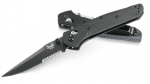 -Price Paid: $130.00
-Used for Every Day Carry
-Owned for 6 months
Comments:
In this review, we will be taking an in-depth look at the Benchmade Osborne 943 Knife. I have carried and used many knives as a US Marine, Law Enforcement Officer, Bodyguard, and Professional Weapons and Tactics Trainer. In my opinion, this is by far one of the best EDC (Every Day Carry) knives I have used to this day.
Overall, this knife is well worth the price I paid for it. The Osborne 943 usually sells for a price of $150.00 - $180.00. With luck, I found mine on eBay for $130.00. It's a sleek, lightweight, and extremely well built knife. The product specs for this knife are:
- Blade Hardness: 58-60HRC
- Blade Length: 3.40"
- Blade Material: S30V Premium Steel
- Blade Style: Clip-Point;
- Ambidextrous Thumb-Studs
- Blade Thickness: 0.115"
- Class: Blue
- Clip: Black, Reversible, Tip-Up
- Closed Length: 4.47"
- Country of origin: USA
- Hard Coat Anodized Handle Finish
- Lock Mechanism: AXIS
- Overall Length: 7.87"
- Weight: 2.62oz.
Now let's look at some of the details of this knife that make it such high quality.
First up is the blade. It is a high quality steel with a clip-point, with an ambidextrous dual thumb-stud opener, and it's razor sharp. I've been using mine daily now for approximately six months and the blade is just as sharp as it was when I first got it. The length is 3.4" keeping it within legal limits for most laws but still long enough for utility use as well as self-defense. Benchmade makes the knife with different blade choices such as a clip-point straight edge or a partially serrated edge as well as a choice of a satin finish or black finish on the blade.
Next is the grip of the knife. The grip is slim, sleek, and ergonomically correct. The length of the knife with the blade closed is 4.47", and 7.87" overall length. I have small to medium size hands and find that this knife fits me perfectly. The handle is made of black, anodized, 6061-T6 aircraft grade, machined aluminum and 410 stainless steel liners. It also has a reversible carry clip that allows for the knife to be carried tip-up. This is a valuable feature for self-defense use for rapid deployment of the knife.
The last item is the Axis Locking Mechanism. This is solid and ingenious design on the part of Benchmade to allow for a secure locking of the blade on the knife. Here is the information on the Axis Lock from the Benchmade website, "A patented Benchmade exclusive, AXIS has been turning heads and winning fans ever since its introduction. A 100-percent ambidextrous design, AXIS gets its function from a small, hardened steel bar which rides forward and back in a slot machined into both steel liners. The bar extends to both sides of the knife, spanning the liners and positioned over the rear of the blade. It engages a ramped, tang portion of the knife blade when it is opened. Two omega style springs, one on each liner, give the locking bar it's inertia to engage the knife tang, and as a result the tang is wedged solidly between a sizable stop pin and the AXIS bar itself. (AXIS)"
In conclusion, I give the Benchmade Osborne 943 knife an overall rating of A+. I would not hesitate to recommend this knife to anyone interested in a high quality, durable, and multipurpose knife.