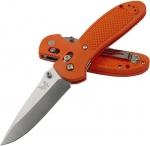 -Price Paid: $150.00
-Used for Outdoor/Survival
-Owned for 3 months
Comments:
I'm from Italy (i tell you so you can understand the atypical knife price and the strange english...)
Hi,
i use this knife in the garden and the back garden, and generally outdoors. I love the axis lock on this knife, you can easily open/close with one hand (which you can't do so well with other benchmade knives).
The design, the size and the balance of the knife are perfect.
The antirust blade (N680 steel) is a good plus when using in the outdoors (about 15-20 bucks for this).
The handle material looks and feels bit cheap, but the grip (oh yes the name!!!) is great. In my opinion the colour is fabulous.
I definitely recommend this knife as an EDC or light outdoor