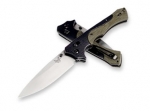 -Price Paid: N/A
-Used for Outdoor/Survival
-Owned for 3 months
Comments:
The ergos on this knife are top notch. It really sits nicely in the hand. Also the handles on this knife are a little nicer than some of the lower end Benchmades. These have a little more mass to them.
The locking mech is good. Standard axis lock. The Mini Rukus is a little tight when you first get it, but some lube in the pivot and a little playtime will loosen the blade up a bit and make deployment smooth.
This is definately a knife for hard use. It feels very durable and can hold its own in a survival situation.
The Benchmade Mini Rukus is pretty pricey though, you do pay for the quality.