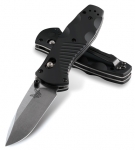 -Price Paid: $147.00
-Used for Every Day Carry
-Owned for Greater than 1 year
Comments:
Benchmade 580 Barrage Review:
I have owned the 580 barrage for over a year now and it hasn't left my side since the day i bought it. It comes with me where ever i go.This is the best pocket knife I have ever owned by far! The pocket clip on it is strong and i have never had a problem with it at all yet.the blade deploys smooth and fast using the thumb studs, and locks up nice and strong with no blade play from side to side or up and down.the blade is centered in the handle perfectly when closed and does not rub along the side.the blade is easy to sharpen although holds an edge for a long time so as someone that can't sharpen knives to overly well like me that's a very good thing haha. The blade came shaving sharp out of the box. I like how it carries nice and low in the pocket for better concealment however I put a small paracord lanyard on it for faster retrieval from my pocket. I have never had any part of the knife break, be damaged or fail in any way. it has a safety but I never use it for the simple fact I am no worried it will open in my pocket but the safety does work though for anyone that has the concern of it opening in their pocket.it feels great in the hand and have had no hot points while using it. Not only is it functional and will hold up to pretty much anything you throw at it, it looks pretty bad ass in my opinion as well. This is a great quality knife and is kind of an HEC (high end carry) knife. There are cheaper knives out there but i also believe you get what you pay for so I don't mind spending $100 or more for something like this. I payed $147 for this knife here in Alberta Canada but people In the united states can prob get this knife cheaper. I would recommend this knife to anyone.
---
Comment by Darren 02/06/2015
Great review, I appreciate the advice as a fellow Canuck! I plan on ordering soon, you covered the bases. Thanks.