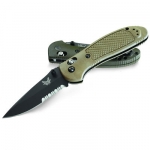 -Price Paid: $75.00
-Used for Every Day Carry
-Owned for Greater than 1 year
Comments:
I have been using this knife (and only this knife) for every day care about a year and a half now, and I cannot recommend it enough.
The blade comes super sharp (no surprise), good enough to shave with.
I have bigger hands than most guys, so one thing I look for in a knife is handle size and the Griptilian is nearly perfect to hold.
Holding it as you normally would, with your thumb along the spine of the knife, is very comfortable. The jimping on the spine is small but is gives your thumb just enough grip.
If you flip the knife over and hold it so that the blade points down while your thumb points up, it's even more comfortable. The hilt of the handle has ridges right where your thumb goes that allow you to grip very nicely.
The only drawback here is the plastic handle feels slightly hollow and cheap. However, in over a year of use, it shows no signs of damage, except for minor nicks that are nearly unnoticeable except under close inspection, despite numerous bangs and drops. I think the handle feels fine, but if you are used to a knife with an all metal handle you may need to adjust.
The Axis lock is great, and placed just right on the knife, making it easy to open with one thumb by using either the thumb stud or by sliding the Axis stud back and flicking with your wrist. It takes some practice, but after a few minutes you'll get a feel for it.
There's a big screw right by the axis lock that you can tighten of loosen to adjust the play in the opening action. I loosened mine to the point that by holding the knife out and pulling the Axis stud, the knife opens with gravity. Even still, the blade doesn't feel too loose when opened.
The blade holds an edge pretty well. I sharpen mine ever couple of weeks. Just 5 or so strokes and it's like new.
The only major complaints I can see with this knife are on matters of opinion. The feel of the handle and size of the individual components may not cater to some. Personally, I think the size and feel are just right and I have 0 issues with it, so I'm giving it a 10, but there are some minor things I think others may not prefer. Either way, it's a great value.
If you are looking for good knife for every day use under $100, I highly recommend the Griptilian.