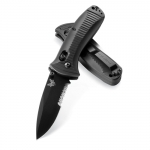 -Price Paid: N/A
-Used for Every Day Carry
-Owned for Greater than 1 year
Comments:
I have owned my 520 Presidio for at least four years. It is one of my go to EDC knives. The only real issue with this knife is the weight. Compared to a Sebenza or Spyderco it feels like a rock in your pocket. However the ergonomics are outstanding. The 520 fills the hand well and has a locked in feel when held in various grips. The axis lock has performed flawlessly and is lightning fast. 154 CM blade steel has a nice balance of edge holding and ease of sharpening. If you like a knife with a good ergonomics that is built like a tank, check out a 520. For those who do not like a heavy folder clipped to your pocket there are others to consider.
---
Comment by bryan 01/20/2013
Alex the handle is T6 aluminum even if it wears off its not going to rust. Hope this helps.
---
Comment by alex 01/02/2013
Hello , i noticed you have the presidio for a long time, perhaps you can help me.I love this knife but i have my doubts about the coating. It seems to rip off after external use. Is there a chance for the handles to rust because of that?Thank you