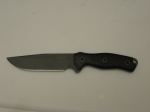 -Price Paid: $139.00
-Used for Outdoor/Survival
-Owned for 6 months
Comments:
This is the best knife I have ever owned. This thing can cut, pry, baton and then it will laugh and ask for more. It has a coating on the blade to keep it from rusting (it is heat treated 1095 steel) so only the sharpened part of the blade is exposed. Some may think the price is a little high, but quality is not cheap.
---
Comment by paulie.4x 08/16/2014
Actually. SR101 is a Deferentially Tempered 52100 Ballbearing Steel, 52100 is similar to 5160, but with more Carbon.
---
Comment by Keero 10/05/2013
Omg just go on the swamp rat website and read the knives specifications. Same fir scrapyard and busse. Lmao wtf.
---
Comment by Aaron is wrong 03/13/2013
SR101 is not spring steel- it is a steel used to make ball bearings-jeez- where do you get your info?
---
Comment by OneWhoKnows 02/14/2013
Double false Most Busse knives are made from Infi steel- most Swamp Rat knives are made from SR101 and most Scrap Yard knives are made from SR77. However each of these makers has used each of these steels and others as well.
---
Comment by Aaron 01/29/2013
False, all busse and bussekin knives are made from sr101 spring steel.