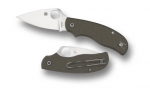 -Price Paid: $90.00
-Used for Light Duty/General
-Owned for 1 year
Comments:
I purchased my urban for use in localities and countries with strict knife laws, and the folder excels in such an environment. It provides outstanding cutting performance and good ergonomics given its size, and carries extremely well with the wire clip. Quality is great, materials are excellent, and Spyderco's slip joint mechanism is extremely well-designed.
While it is a great knife overall, I do have a few nitpicks:
-While ergonomics are outstanding for a folder of this size, they are still somewhat lacking compared to the larger spydercos. The smaller handle makes ergonomics somewhat cramped. Largely because of this, I prefer the longer-handled UKPK to the urban.
-Fit and finish, while great, was not perfect. The interior of the back spacer and the inside of the spyderhole were somewhat rough. While by no means a functional issue, I would have liked to see this surface polished at this price point.
-Speaking of price point, I think it is a tad high for this folder. While it is still a great buy, I do not think it is the incredible value of other Spydercos like the military and UKPK. I would like to see this knife around the $75 dollar price point.
Overall, the knife does a great job as far as providing as much utility as possible given the legal parameters. However, if the UKPK is also legal in one's area, I think that is a better choice due to the superior ergonomics and blade steel.