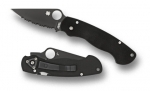 -Price Paid: N/A
-Used for Every Day Carry
-Owned for 3 months
Comments:
The Spyderco Paramilitary is amazingly smooth. It is also incredibly light. Those are the first two things I noticed taking it out of the box.
This knife does not have steel liners in the handle, which is G10. Very nicely textured G10 at that. The knife handle is very long compared to the blade. It allows for a great grip. The bottom could also be used as an impact device in a self defense situation where non lethal force was desired. The blade has good jimping and a nice rise so your hand won't slide forward should you need to use in a stabbing motion for any reason.
The blade is S30V, which is a premium steel in my book. The blade is full flat ground with a very nice, sharp tip. The tip is a touch delicate so I wouldn't go batoning through any wood with this thing. However, the slicing capabilities of this knife are unmatched. I have some other spyderco FFG(full flat grind) blades such as the Tenacious and nothing compares to this knife.
When sitting in the pocket, it is pretty much weightless. I'm also a big fan of the compression lock. This knife would make a great knife for every day carry. The knife is expensive, a little over 100 bucks plus shipping, but I've still given it a value of 10 because you get a lot more than 100 bucks worth of knife.
This knife also comes in a variety of colors, my favorite being the digicamo. The digicam g10 scales are slightly translucent and just look downright stunning.
The spyderco paramilitary is a tactical blade that can be used for every day carry. Given the choice, this is the knife I reach for every time...that is until I get my Spyderco Military!
---
Comment by marc 01/26/2012
Pm2 has full steel liners inside holowed out g10 scales