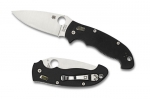 -Price Paid: $160.00
-Used for Every Day Carry
-Owned for 6 months
Comments:
I purchased my Manix 2 XL in Jan 2012 looking for a low cost alternative to the Strider SNG I had been using as EDC for the 1.5 years previous. I EDC'ed it from the time I acquired it. I quickly realized that for common everyday tasks, it was superior in nearly every way to the Strider. It still has its original edge and cuts effortlessly after 6 months. I also liked that it had the S30v FFG blade. The only gripe I have is with the size, for a folder its a big knife. This was the only area where the Strider excelled over the XL. Why didn't I just get the regular Manix 2 you say? Well, I'm just a sucker for flat grind blades.
Initially, it felt slightly odd as it had a definite presence where the Strider simply seemed unnoticeable in my pocket. I quickly became accustomed to it and don't have a problem at all with the size. The XL's large thumb-hole also makes for easy and fast deployment.
All in all I'm very happy with this knife and really have no drive to carry the SNG anymore. I highly recommend the Spyderco Manix 2 XL. Gave ergo a 9 for size.