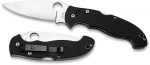 -Price Paid: N/A
-Used for Outdoor/Survival
-Owned for Greater than 1 year
Comments:
My first Spyderco, I purchased this knife more than 4 years ago. It was the first knife I got that wasn't coated black with a tanto point (ashamed).
Build Quality: Every feature on this knife is ideal for me. It has a perfectly sized, thick S30V blade in a sturdy backlock. The blade is a long, leaf shape that is flat ground to a very sharp edge. The point is sturdy, but still useable. The G10 slabs and steel liners inspire confidence.
Ergonomics: I've got medium sized hands for a male, and this knife, although it may look huge, fits me perfectly. It conjures the image of a future spyderco endeavor, where you send in an imprint of your hand around a clay model, and they customize a handle shape for you. It's that good.
Value: Considering it's the greatest back lock, nay, knife I've ever handled. Just buy one. I got it while in production, so expect to pay double that price. Still worth it.
Overall: Get it. An anecdote to testify. I carried this everywhere for two years, the worst thing that happened was one clip screw coming loose. Camping, 60 mile treks, road trips, even went through the wash unharmed. Once I shipped it to L.A. while visiting a friend. We planned to drive all over the southwest. On our way to denver, in the desert outside of green river, Utah, my friend's honda slammed into a truck tire tread at 95 mph. We could hear dragging and immediately pulled over. I assessed damage, pulled out a razor sharp Manix and proceeded to cut the 1/2 inch thick plastic material that was hanging down under the hood like a snowplow. The knife was banged into metal parts, rocks and cut through this easily.
Not 5 hours before this event, when I fished the knife out of my checked luggage, my friend remarked, "wow, that's a really nice knife, but what would you need that for?"
I wouldn't think of carrying anything else if I could only have one blade.