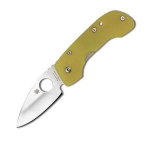 -Price Paid: N/A
-Used for Light Duty/General
-Owned for 3 months
Comments:
The Leafstorm is a clever little knife. The first thing I noticed about it was the appearance. The color on the g10 scale is awesome. It looks like it would glow in the dark(it doesn't). The blade is well shaped and useful, and deployment is smooth and quick.
The knife has superior performance for a knife this size. It's very small, and perfect for around the office. It's somewhere in between a hard use knife and a gentleman's knife as it certainly won't raise any eyebrows when drawn, but handles tasks and holds an edge surprisingly well.
The Leafstorm has a titanium frame lock, which works well, showing no signs of discernable blade play when the knife is open.
Overall I'm satisfied. I don't really have anything bad to say about the Spyderco Leafstorm. I'd recommend it to a friend as well as it is fairly priced.
---
Comment by AK 12/16/2012
I feel the same as this guy. Great for the home or office, and no finger choil needed.