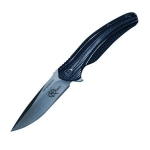 -Price Paid: $40.00
-Used for Light Duty/General
-Owned for Less than 1 Month
Comments:
First off the ergonomics are great but remember this is a smaller knife. So it doesn't quite fill the hand but it's very comfortable and excellent grip due to the ripple handle style. Nice jimping on top and on the finger choil.
Opens super smooth and easy. Not assisted and still flips open with the index finger easily. Locks up solid. Uses just the frame lock. Sturdy but more a light duty knife. 2.2 oz on my scale and a nice thin clip. You forget it's in the pocket.
Over all love the knife. I'm hooked on the looks. One of the prettiest knifes I own.