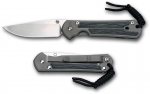 -Price Paid: $400.00
-Used for Every Day Carry
-Owned for Greater than 1 year
Comments:
I had my Small Sebenza for a year and a half before I was mugged and in that time had great memories of it.
Initially I was a bit disappointing when I received the knife, no golden glow around it or anything screaming this is a great knife. Just a industrial look to a tool.
After some time carrying it on hiking trips from coastal areas to semi arid Savannah areas, office use, hunting and being my EDC for some time the knife started showing its character and I realised just how thoughtful and well designed this knife is.
It is a great EDC size and carries light in the pocket. Ergonomics might seem a bit dull, but there are no groves that constrict your hand into any position or a certain grip. Easy to clean and lockup and fit and finish was everything come to expect from Chris Reeve.
Edge holding for S30V in my use was great, 17* per side with a 20* per side micro bevel finished to a mirror polished edge. The steel lost its shaving sharpness (did use it to shave) in a few days but held a great working edge for 2 weeks of everyday use from cutting water pipes for irrigation to whittling sticks.
The knife is easy to take apart and maintain in perfect working condition. I generally on cleaned it with a hose, compressed air and a drop of fine machine oil.
I would recommend this knife to anyone looking for a high quality knife that will appreciate the fit and finish. Dont think it will knock your socks of from the get go but carrying it for a while you start to realise just how great this little knife is.
I paid a bit more the MSRP from Chris Reeve for this knife but at the end was very very pleased with the knife.