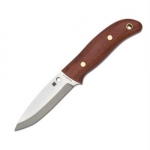 -Price Paid: N/A
-Used for Outdoor/Survival
-Owned for Less than 1 Month
Comments:
The first entry into the world of bushcraft knives by Spyderco was a bittersweet project. The knife while long awaited and designed by a combination of skilled woodsmen, knife designers and forum member input had an unexpected issue with materials used.
The Burlwood handles on the knife began to crack due to insufficient stabilization time. This caused the knife to be turned into a 2nds product. I will review the knife using a very basic format aside from the handles the performance will be mentioned along with other aspects.
Ergonomics: One of the most comfortable knives I've used and held. the knife definitely feels like an extension of the the hand/arm in regular and reverse grip.
Weight: It is almost weightless coming in at .6 ounces.
Sharpness: Straight out of the box, the knife is shaving sharp. The knife has a Scandinavian/"Scandi" grind. This is a basic grind that can be extremely easy to maintain in the field by the most skilled and unskilled users.
Steel: A full tang 4 inch blade made of O-1 tool steel. O-1 is a high carbon tool steel that has been reported to posses good to excellent edge retention.
Weight: 6.3 ounces according to the Spyderco website. not including the sheath (handmade out of THICK leather)
Use: No problem battoning through small saplings (2-3 inch diameter). No visible signs of damage to the tang after 20 minuts of hard battoning. Split dry mesquite and pecan wood with ease and kept a sharp edge. Blade did not chip ir lose grind line.
Overall/Conclusion: Despite the problems with the wooden handles, many people loved the knife (myself included). This was my first "Bushcraft" style knife and I honestly think that Spydeco hit it out of the ballpark with this one. It was a great learning experience for them and Sal mentioned he would attempt another Bushcraft knife using different steel and handle materials. Spyderco's commitment to innovation and direct communication with their customer base is the reason so many people are loyal to this great company. They produce some of the absolute best cutting tools on the planet.
If you don't own one, you owe it to yourself to have one on your keychain. You will find yourself using it often.