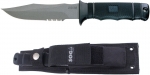 -Price Paid: $59.00
-Used for Outdoor/Survival
-Owned for 1 year
Comments:
SOG SEAL PUP TEST:
AUS 8 steel
High quality nylon sheath (yes)
Shaving sharp out of box(yes)
Full tang (yes)
Serrations good/bad?(good)
Extremely Light weight(yes)
Good ergonomics (yes)
Excellent grip while wet (yes)
Cuts cordage extremely well(yes)
Batons through wood (yes) very well
Cuts/stabs through tin/aluminum (yes)
Works as can opener (yes)
Holds and edge well (yes)
Function ability in winter (good)
Sparks with fire steel (yes)
Worth the cost Cost $59 (yes)
The new seal pup is what i used for the test and is made with AUS 8 steel, the old version is made of AUS 6.
1: Cut open cocoanut,still very sharp after.
2: Pounded tip into a dead tree and tried to pry a piece of wood and bent the tip. I was able to bend the tip back with no chipping or breaks to the tip or the rest of the blade. I think the metal is to thin at the tip to pry something heavy or really hard.Was able to pry smaller dead trees with no bending. Recommend if prying to get the knife in far enough to reach the thickets part of the blade.
2: throws lots of really good sparks with a fire steel when using the serrations. I used the serrations so I didn't dull my blade. I used the serration closest to the handle since I wouldn't be using that part as much as the rest of the blade and serrations.
3: edge held up very well after batoning through wood.there was alot of shock felt through the handle while batoning but wasn't so much I had to stop.still able to push cut through 550 cord (no slicing)
4: I do not recommend serrations on a survival knife however they do work great for throwing sparks with a firesteel and the serrations on this knife held up very well to batoning and cutting and show no visible damage after tests.
5: works well as a can opener although not recommend unless you have to use your knife.was not able to push cut through 550 cord after using as a can opener but still held a pretty good edge.still slices 550 cord well. ( bring a can opener )
6: had no difficulty using in the rain and soaking wet. Did not slip in the hand and was able to keep a strong grip on the handle. (would also work great as a dive knife.)
7: sharpening the knife isn't hard, I was able to get it very sharp even tho I suck at sharpening, so anyone with better sharpening ability than myself should have no problem with getting a razor sharp edge
8: the knife feels great in the hand, however the handle is hard and has alot of shock transfer to the hand when batoning through wood.
SHEATH:
the sheath is in my opinion is a very good quality sheath. it does take a little breaking in to get the knife to go in and out of it easy, but all it takes is to put the knife in the sheath and leave it in there for a day. I like how it is capable of attaching to a back pack, vest or a belt. The sheath is capable of left or right carry. It has a pouch on the front that I use for a fire steel and sharpener and it holds them very well with no rattling. All in all I think the sheath is great and give it a 5 out of 5
The KNIFE:
over all this is a very good, strong knife that is extremely light weight, easy to carry and does pretty much any and all tasks that you throw at it. It handles abuse very well and despite the serrations it makes a decent knife to take in the woods. If I could only have one knife with me in a survival situation I would probably not bring this knife. I would us something heavier like the Becker Bk2 because it's a straight edge and is very thick and can pry the hardest stuff you throw at it. But again the SOG Seal Pup can and will do the job pretty well if it is the knife you chose as a one knife option.
I would recommend this knife to others and is defiantly worth the price.
If you have any questions please post a comment and also if there are any other tests you would like to see done with this knife please ask and I will be more than happy to do it.