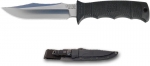 -Price Paid: $74.00
-Used for Other
-Owned for Greater than 1 year
Comments:
Just to clarify some differences between the Seal Pup and Seal Pup Elite.
The Elite is AUS 8 instead of AUS 6 and the original seal pup has no rasping on the top of the blade. If you take a look at where the cutting portion of the blade starts in relation to the handle, you will notice a gap. I see no use for this gap at all and the original seal pup has more of this wasted space than the seal pup elite. This adds unwanted weight and in my humble opinion makes the overall appearance of the knife less appealing. This also makes batoning operations in the bush more difficult because you have a blunt surface contacting the wood.
I would say that the steel used in the elite is a marked improvement over the orignal.
The handle materials used are the same in both. It's some kind of glass reinforced nylon that SOG calls "Zytel". Excellent as far as keeping the weight down and very durable. The downside is that even though they added some nurling, it's still a little bit too slippery if you have sweaty, wet or bloody hands.
The overall feel and comfort of this knife is quite comfortable and I would be happy to use one outside in the bush or in a tactical situation. It would even be adequate as a hunting knife. However, there are better blades for this purpose.
Let's face it, it's a very cool looking knife and if you're happy with paying a hefty price for looks then I wish you the best. The "mean" looks of the knife unfortunatly prevents me from leaving it on my belt. Otherwise, it would see more use.