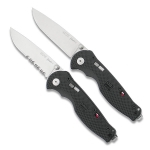 -Price Paid: $32.00
-Used for Light Duty/General
-Owned for 6 months
Comments:
This was one of the first knifes I purchased after watching a nutnfancy vid on youtube.
Knife is smaller then I thought.
Assisted open is fast.
A little to much blade play for my tastes
Aus 8 is easy to sharpen and hold decent edge.
Handle feels cheap as its made from zytel
Lock button/slider will rattle making it annoying.
Good deep carry pocket clip.
Super light with nice thin blade for slicing.
Good knife for light tasks