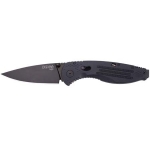 -Price Paid: $55.00
-Used for Light Duty/General
-Owned for 6 months
Comments:
First off anyone who reviews a knife or reads a knife review must keep in mind what the product they are reviewing or reading about has an intended purpose and so that purpose is what should be reviewed. Way too many people buy a light weight knife and try to chop down a tree with it and when it breaks they give it a bad review.
With that in mind the SOG Aegis was designed to be a light weight EDC normal task use knife not a survival knife. I EDC two knives one for the majority of my tasks which is my right hand carry knife. The SOG Aegis is my Left hand carry knife. My particular criteria for weak side carry is as follows. It must be light weight, have an open assisted blade, have an excellent piercing blade of at least 3 inches with a plain blade and can be carried right or left handed and hide well in the pocket. This knife fits all that criteria to a T. I deliver and repair medical equipment for a living going from home to home. Like any delivery person dogs, especially in bad neighborhoods are an issue so I carry two knives instead of a multi blade knife so I have access to a defensive blade with either hand. Weight was an issue for me for LH carry since I already carry enough in my pockets and on my belt to rival Batman. Normally I would look to Spyderco for a light weight EDC knife but I needed the open assist for LH carry due to a permanent injury to my left hand. This knife grabbed my attention simply on looks then as I researched it I found it is extremely light. With a 3.5 inch blade in weighs in at only 3.1oz. The bayonet clip allows for deep carry yet I have no trouble pulling the knife in or out of my pocket.
This knife has some of the best ergonomics I have ever felt in a folding knife. The rubber inserts along with the digital texture allow for a good firm grip wet or dry, gloved or not. In my opinion the gimping on the back of the handle is way too smooth and does not give a good enough grip for your thumb during heavy cutting but is not a deal breaker.
The lock up on the blade is quite nice for a knife that does not have liners in the handle. Upon receiving the knife I had to adjust the pivot to get the lock to work at full strength and remove some side to side wiggle in the blade but once the adjustments were made the knife felt much more solid.
The blade is made of AUS-8 steel which is light, holds and edge well enough and is quite corrosion resistant. I see a lot of complaints in reviews about AUS-8 steel being sub-par and that is simply nonsense. Everyone wants S30V but few are willing to pay for it. Every knife is a compromise and in sub $200 knives you are going to get a small downgrade in steel that does not make lighter steels like AUS-8 unworthy of knife use. It wasn't that long ago everyone wanted 440c and the day will come S30V in no longer king of the hill.
Overall this makes a great EDC knife for the common, works in the city type of guy, but is not a heavy use knife for such as a ranch hand or construction worker and this knife should not be treated as such. The Aegis has an excellently shaped spear point flat ground blade (big fan of flat ground blades) that is capable of an extremely sharp edge and the blade retains that edge quite well. This would not be my first choice of folder to be dropped of in the middle of the Alaskan wilderness with but would work in a pinch, but for common every day cutting even in the kitchen there are few better. The only change I would make is to drop the useless blade locking mechanism. Just my opinion but there is no place for such a device on a knife.
---
Comment by DoubleR 07/24/2012
The Spyderco Caly 3.5. I own app. 150 knives, and this one is superior. In fact, Sal Glesser, owner of Spyderco, a man that could probably afford to carry any knife in existence, carries this knife, which in my opinion speaks volunes.
---
Comment by wildpig 09/06/2011
i suspect joey knows knives. sog aegis sog mini vulcan bm 746 many aubrac laguioles............ a few bokers
---
Comment by Joey 06/01/2011
Whats the best pocket knife for edc I can get for around 100 bucks