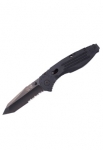 -Price Paid: $64.00
-Used for Self Defense
-Owned for Less than 1 Month
Comments:
The title says it all, im in love. As soon as you take it out of the box it all became clear. It's a badass looking knife. The "SOG" Pocket clip to the "SOGSOGSOG" grip inserts and the digi style pattern on various areas of the handle. Then you finally flip it open and see the aggressive thumb gimping and a very mean looking blade.
But this beauty is more than just skin deep. It has a very commanding deploy. It'll be ready for action when you are. The blade is shaving sharp. That's why my middle finger on my left hand is bald. It even has a safety switch. With the safety on the blade will not deploy. If you want to use it it's there otherwise it's easily ignored.
Very lightweight and feels sturdy even without the steel liners you might be used to.
Now on to the bad. Remember the badass looking pocket clip and the "SOGSOGSOG" grips? They work together to make a VERY grippy surface for your pants pocket. With Dickies pants on it was a chore getting the knife in and out of the pocket. If I ever need to defend myself in a rush i'd be in trouble. Hopefully it will slide better against denim.
All in all it's a great knife and I will be a future SOG buyer.