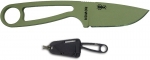 -Price Paid: $55.00
-Used for Every Day Carry
-Owned for Less than 1 Month
Comments:
I got my ESEE Izula because I wanted a small fixed blade to EDC. The no-questions-asked warranty was also a very big attraction. I've carried it for a little over a month now.
My favorite aspect of the Izula is the versatility and carry options. It can be a neck knife, or can be carried easily on the belt in both horizontal and vertical configurations. On top of that, you can attach molle or tek loks to it to attach it to your packs.
The ergonomics are the second reason, but this knife is one that has a lot of options of ergonomics. You can carry it "naked" with just the skeleton frame, with a paracord wrap ( of which there are many different wraps that ofter various grips ), and there's also the optional micarta scales. I never found it very comfortable to carry it naked when using it for cutting tasks that require more force, but for mundane EDC things it's all right. I think the paracord wrap is a step up in comfort, but the scales really give you a lot more to hold on to. The only thing I don't really like about the scales is that they leave the pommel exposed and make it feel like there's nothing there to hold on to; but it's easy to wrap this part in paracord to have a half micarta/half paracord setup. As far as carrying it goes though; at 2 ounces and with all the options for carry, it's easy to forget it's even on you sometimes. Between the handle and carry options it's kind of hard not to find a comfortable way to carry and use.
There's a lot of things this knife can do that a lot of 3" offerings can't, but this can be kind of bad on one hand because I started trying to use the Izula for tasks that no 3" knife was suited for--slicing up a full sized ham for example. For the most part though, I haven't felt limited by the blade length, and I haven't felt like there's anything the blade can't really do within reason. I mean, as far as strength goes, I already had to use it as an ice pick/prybar to get my gas hatch open after I ran out of gas on the side of the road. It tore up the 1/16" sheet metal on the car in 18 F weather and all that happened was I slightly dulled up the tip and rolled the edge the tiniest bit (didn't even notice until 3 days later when trying to shave arm hair), but yet it's small enough to be able to handle delicate cutting tasks like whittling or taking out a splinter, cooking tasks, opening stuff. etc. I can even shave my face with it, which you probably wouldn't see me doing with many other knives I can treat like this.
I wasn't sure about 1095 steel when I bought it. Mostly because of the corrosion resistance because the humidity can get pretty high around here. From what I've seen with my limited experience the coating is pretty durable, but I've had the edge rust up slightly from leaving a little water on and putting it in the sheath. A little rust isn't really a big deal though.
As far as the other aspects of the steel go, I'm pretty surprised at how long the edge holds up to tasks that are nasty on an edge. I reprofiled but left the factory geometry; I just put a more even bevel on. Afterward I batoned through a 2x4 with no rolling or noticeable dulling, cut up about 16' of carpet with only slight dulling, and cut through a good bit of a steel radial tire. I think that with the blade thickness and a full flat grind it helps to keep it thick enough to handle a lot of stuff, but thin enough to still be a great slicer. It still dulls faster than my other EDC in S30V, but it's not so far behind it I wouldn't use it at the same rate.
To me though the real shining factor isn't the edge retention, because it does have its limit. What's really nice is how quickly it sharpens. That probably has to do with the 57 HRC hardness. You would think that being that soft it wouldn't hold an edge at all, but it holds it quite well and it's very easy to put back on. Seeing how I can even compare it to my S30V in edge retention, yet I could probably sharpen it back up in a quarter of the time, I think that's a huge asset.
The only real issue build wise I have with the Izula is that near the choil there is a very slight recurve. It ground out pretty well, but it still remains after my first reprofile, and so it prevented me from grinding out the entire original finish. It's not really a big deal at this point, but with the factory edge I think it would make it hard to make contact with the full edge at this point on the blade. The jimpings were a little rounded and provided little friction because of the coating as well; but that's nothing a file won't solve so it didn't bother me, but these were the only two questionable things I found with the build.
It's really hard to beat the price point given everything. All the carry and handle options, the low weight, and the insanely stout yet utilitarian build quality, it's generally a $30-$60 buy and you have a lot of options even when purchasing. It comes with Pink, OD Green, Desert Tan and Black coatings, and there are many more colors available online--I've even seen Red white and Blue patterns, and some vendors have exclusive "Safety Orange" models available. In addition to that you can get it with the "survival kit" or just with a sheath on its own. The micarta scales are about a $15 extra purchase though. At the end of it, for about $75 you can have an Izula with the survival kit and micarta scales, or for about $40 you can find just the knife on its own.
---
Comment by Matt 03/27/2011
Great review. If you are worried about rust with 1095, you can keep the blade lightly oiled and it should prevent it. To be honest, a little rust on the edge or where RAT/ESEE etches their logo in the blade doesn't make the knife any less functional. In my opinion, 1095 is a great hard use steel and worth the little extra trouble to keep it oiled if small specs of rust are a big deal to you.