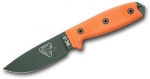 -Price Paid: N/A
-Used for Light Duty/General
-Owned for 3 months
Comments:
for a small knife, this is an great tool!
it's been used for splitting kindling, cutting up apples, breaking down boxes, and opening x-mas presents with no problems on any of it.
when I first got it I took a hone to the edge and haven't had to touch it up since.
steel is 1095 with a heat treat that allows the blade to flex during hard use but not break.
blade is coated with a tough baked finish that shows scuff marks but is pretty durable so far.
scale to handle fit is excellent.
to top the package off, this knife came with the best warranty of anything I've ever seen.