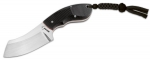 -Price Paid: $35.00
-Used for Light Duty/General
-Owned for 3 months
Comments:
Wow what a great knife.
The ergos are amazing.
The shape of the blade is very nice looking and helpful.
Handle look very well done and fits had perfect.
Kydex sheath is a very nice touch.
Holes cut out to fit tech lock in sheath.
Very nice quality coming out of china.
Pick one up if you can find them in stock.