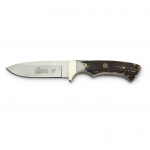 -Price Paid: N/A
-Used for Light Duty/General
-Owned for 3 months
Comments:
The Puma Coyote has a lineage of being a classic hunting knife. The quality is great and I was surprised by the level of edge retention that the 440A steel had. The down fall of the knife is the ergonomics. The handles is too short and uncomfortable to use. There are other knives out there that can do the same thing for less money and with a better felling in the hand.
---
Comment by Glenn 04/26/2015
How do I see a review that rates something a 10 on quality but 4 on something so subjective as to be meaningless to someone with small hands?