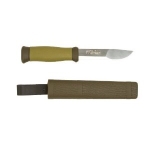 -Price Paid: $28.00
-Used for Outdoor/Survival
-Owned for 6 months
Comments:
I was extremely pleased when I received my Mora 2000. Having only seen a picture on the Internet I ordered it. I was surprised when it arrived, it was so much nicer than the picture.
Yes it has a green handle but I liked it because it didn't look like any other knife out there. It's handle is very comfortable and very grippe.
The blade came with an almost mirror Polish, and very sharp. It feels so comfortable in your hand, great for fine wood working.
It comes with a no frills plastic sheath, but it works well for this knife. The sheath has two holes in the bottom for water/moister drain off. This would make a great boat/fishing knife. Also a great camp knife.
It's not a high dollar, high end knife, but this has got to be the best bang for your buck. These knives do not cost much. In fact the could charge double and it would be worth it.