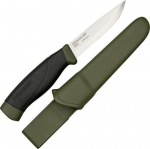 -Price Paid: $18.00
-Used for Every Day Carry
-Owned for 6 months
Comments:
Everyone claim this is "outdoors" or bushcraft knife but I say that this can be prefect every day carry ! Small, light, easy to be carry with nice sheath definitely better than any folder. Plus - very cheap !!!! plus easy to be resharpen without any special honing tools
In my country in East Europe I have no problems with caring any knives, nunchakus, tonfa i.e any cold steel or impact weapons. If I wish I can carry even medieval sword - no problems with police
Hopefully we have a goods politics in this aspect.
So if there is no law problems in your country for carry fix blade knives - choose this one! The best ever choice for every day carry !