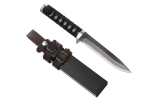 -Price Paid: $250.00
-Used for Outdoor/Survival
-Owned for Less than 1 Month
Comments:
Well there are knives and then there are Knives. Shinobi made in Seki, Japan falls to this latter category. Hand made from tip to sheath has provided absolutely amazingly beautiful knife.
Knife is a tad forward weighted which makes it very well balanced and agile in use. Blade is made of 15 layer of damascus steel with HR around 61-62 making it extremely sharp and easy to keep it that way.
Now as I am a tad of an animal person, the small minus comes beacuse part of the handle. Blade is full tang which is insterted in a block of wood (oak) which has a layer of shark skin on top of it (here the minus) and it's wrapped in stingray weave.
The cord feels like paracord (quite smooth and slippery) so with dry hands, you are not getting the best possible grip. With sweaty/wet palms or with gloves, the handle gives a solid grip.
The sheath... well, it's unlike your normal kydex/plastic/leather sheaths. It's made of magnolia wood, with leather wrappings.