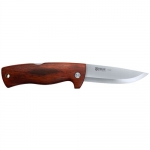 -Price Paid: $120.00
-Used for Outdoor/Survival
-Owned for 6 months
Comments:
I have to say I'm from Italy so you understand the price of the knife and my incorrect English.
This is a cocobolo handle version of the more famous Dokka (birch handle).
The handle is the best part of this knife, it is thick, and very comfortable also with hard use of the knife. The back lock is solid and has a progressive functioning. Is for two hand use, is mainly for outdoors, hunting...
It is a modern alternative of Buck 110, maybe less "strong" and certainly less mythic, but lighter (131 g vs 250 rounded) and, in my opinion, more comfortable. If you're looking for a Scandinavian pocket knife, probably this one is best for intensive use.