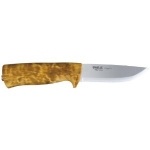 -Price Paid: N/A
-Used for Light Duty/General
-Owned for Less than 1 Month
Comments:
A friend recently gifted this knife to me after a trip to Norway. First impression is that the Eggen is absolutely beautiful.
The wood handle has a gorgeous grain and is sanded smooth with an oiled finish. It is extremely comfortable to grip, as it is well shaped and sufficiently thick. The knife appears to have a full tang. Often times with knives of this design, the handle becomes loose because wood swells with varying humidity. I detect essentially no movement of that nature with this knife.
As for the blade, it is stainless but I'm not sure what steel was used. It has a saber grind and is pretty thick. Still has no problem slicing through a piece of paper without grabbing at all.
It comes with a well made leather sheath. My only complaint with the sheath is that is relies purely on friction to hold the knife in. There is no positive "click" to let you know you are engaged like with a kydex or molded sheath.
The overall craftsmanship almost makes this knife feel more like a dress knife than a survival knife. It looks too nice for me to want to take it outdoors and beat on it. Overall, it is well balanced and a pretty nice knife. Helle isn't popular in the USA at the moment, but it wouldn't surprise me if their business here started to pick up in the near future.