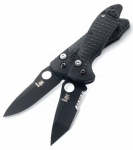 -Price Paid: $48.00
-Used for Every Day Carry
-Owned for Less than 1 Month
Comments:
I bought this knife as i needed a budget U.S.A made folder to do almost anything i put it up to. hasnt seen serious use yet but i can comment on what i like and dont like, what works and what doesnt. First off my Gripes
Complaints>
Handle- The handle is made completely out of a plastic material. Although extremely lightweight and also very tough, it feels cheap. it isnt coated onto steel or aluminum, the completey handle assembly body is plastic.
The clip- There are only two options to carry the knife. both options are upside down so fast drawing the knife is slow and awkward
The lock- Although i havent had any problems with the Push button lock yet, it seems like it wouldnt be the strongest thing in the world either. lock-up is firm and tight, but i feel like if the knife was put to extreme stress it might fall short where tough Liner locks exceed.
The grip- the texture used on the handle of the knife is that of those Truck bed tool boxes, the diamond like texture, using this texture kind of feels cheap to me. if they had pebbles or a finer grain surface it would grip better than it does. plastic just doesnt feel as good as metal.
What i like about the knife>
Made in U.S.A- these HK knives are made my Benchmade, and this model (Soldat) is made here in America, for americans.
Weight- It is insanely light wieght, this is due to the use of a plastic handle and good ergonomics
Spyder hole opening- Instead of the traditional thumb stud or even kicker/flipper, this knife utilizes the proven thumb hole which is a perfect circle cut right out of the blade. i find this the best opening system in the world. this knife isnt even assisted but with a slight twitch of the thumb and snap of the wrist this folder comes out faster than an automatic.
Blade steel-Although the steel used in the blade isnt of American origin, it is of austrian origin which many consider better, purer steel. N680 is a high performance, All-around use stainless steel which holds and edge well and is easy to re-razor.
All-around use- I got the tanto, serrated model which offers the razor sharpness and stabbing capability of a tactical knife but has the durable, practical serrations for anything to cutting rope, vine, or any object difficult with an ordinary straight edge.
For a $45 dollar knife i would say it is a good value. It doesnt feel as durable as it really is and its like a glock- cheap, reliable, durable, austrian, and practical, but not as nice as a 120 dollar benchmade or say a 1911.