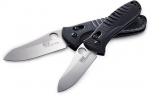 -Price Paid: N/A
-Used for Every Day Carry
-Owned for Less than 1 Month
Comments:
Well I have to say that I was a Griptillian Fan until now and really, really hesitated at buying this one and only at the "Bargain Price" that I was offered it at perked my interest.
My local Gun Dealer was sadly closing his doors for the last time that day and I could buy it for well below his dealer cost, I thought why not (besides he did a Godfather on me and made me a an "Offer I Couldn't Possibly Refuse".
I don't want to fog any ones opinion by disclosing what I paid for it and I did walk out of the store thinking that it was more like a gift to a valued customer of many years on his last day of business.....
This new Bone Collectors Edition was just especially comfortable in my hand at the time (without being rough and still NOT losing traction to it's grip). Even having small hands I have always found the Mini Griptillian to be a little short and the Full Griptillains just a bit big (also a bit rough and sharp edges to the feel), but this new Bone Collectors Edition are fare superior in the ergonomics of there scales (grips)and design.
I will never get rid of my old Yellow Mini Griptillian, BUT it will be spending a lot more time in my desk draw from now on..!!!
I was extremely lucky to get the model with "Wooden Scales" and I just love the G10 back spacer on the spine of the knife, I am really a G10 Fan opposed to the Cheep and Down Right NASTY Valox that is being used by Benchmade on it's 585 Model.
This knife just feels so surprisingly NATURAL in the palm of your hand or when gripped and the D2 Steel just makes for a very well rounded pocket package.
To be perfectly honest regarding the scales materials, the truth is that no man made material can match the feel of a natural material like Wood....!!
The bottom line to any Benchmade Knife is "THE AXIS LOCK" and I can't find any one else that has a locking system to match it for ergonomics, strength, ambidextrous use or just plan SAFETY.
It's an easy one handed open flick and an easy close with your fingers well away from the blade, if you are working and perhaps not putting your full attention on the knife that's very important to me....:)
I have never been an everything in BLACK sort of guy and really hate the Henry Ford "You can have it in any color you want, PROVIDING it's BLACK" mentality. So the Brown Color and Wood Grain is very attractive to me personally and meets my needs as a Gentleman's Every Day Pocket Knife that looks and feels stunning.
This is probably the happiest that I have ever been with a Benchmade Purchase (not withstanding the bargain that it was)and I would dare say that like myself you won't be disappointed either....!!!