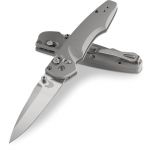 -Price Paid: N/A
-Used for Every Day Carry
-Owned for 6 months
Comments:
I think it's about time that a women gives her opinion on a knife (we are 50% of the market place you know), the only thing that I would say Benchmade did wrong with this knife was it's name, they should have been called "The Lady Finger" (he he).
The knife was a birthday gift from my husband and he did extremely well when he choose it for me, I love the cut away section on the handle so as not to brake a nail when I flick it open.
I adore the size for my petite hands and the way it can simply slip into a handbags side pocket with a deep clip and I know exactly where it is if I need it in a hurry (right next to my pepper spray). My goodness I do love the way the clip also hides the knife away in the pocket of my jeans and its so slim it's almost unnoticeable, this is just a perfect knife for a lady.
I like the way the lock is on the side to secure it so I feel safe when the knife is in my handbag or pocket, I don't want to have any issues with it opening accidentally as I rummage though my bag or put my hand in my pocket for my keys.
Girls this really is a Knife made with us in mind and not in some condescending color like PINK. I really hate it when manufacturers just take a product that's made for a man and color pink thinking they now have the Female Market Cornered....:)