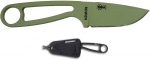 -Price Paid: $60.00
-Used for Light Duty/General
-Owned for Less than 1 Month
Comments:
So far, I think the Izula is awesome. I got one in venom green, which looks awesome. The knife is smaller than I thought, in fact quite a bit so. The handle is only a three finger handle, my pinky hangs off the back. The blade is a little over two inches long. The knife is made out of 1095 steel. I have an old RAT Cutlery(who has since become ESEE) RC4 which is made out of the same steel, and I've used it hard with no complaints. I haven't thrashed my Izula yet, but ESEE/RAT do 1095 very well. The sheath is great. Injection molded plastic, and it rewards you with a positive and satisfying *click* every time you snap the knife in. The tolerancing on it is great; the knife fits like a glove.At first I was going to do a paracord wrap on the handle, but I've come to like it plain. Because the handle on the Izula is skeletonized, I actually get a pretty solid grip without the paracord so I don't think I need it.The only ding I can give to the Izula is on ergonomics, but because it's only a 3 finger knife, it will never be as comfortable as a knife with a full size handle. That said, compared to other knives this size, it is pretty comfortable.I think this knife is a great deal, looks great(you can find them in something like ten different colors), and performs well. I recommend it.
---
Comment by Jojo 05/20/2015
3 1/2 fingers for me. The Izula 2 has a longer grip. It all depends on ur end use. I'm running my Izula without handles so it grips fine. I think with handles it would feel clumsier.