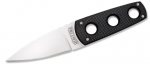 -Price Paid: $30.00
-Used for Light Duty/General
-Owned for 3 months
Comments:
The overall fit and finish of the blade is not the best.It
has fake G10 scales. Had I realized that I won't have
bought this knife.The steel is AUS 8A which takes and hold
an edge fairly well.It's also very stain and chip resistant.
It can be resharpened to a very sharp edge very easily.
One of the reason I decided to keep it. The sheath is
cheaply made. Time will tell how long it will last.One
of the chief reasons I don't think I'll be buying another
Coldsteel knife is their warranty. It's only 5 yrs for
straight knives and 1 year for folder.Coldsteel
doesn't stand behind their products very well at all.
Coupled with the facts this knife looks and feel cheaply
made.I see Coldsteel as more hype then performance.I wouldn't
recommend this knife. You can get better for the price.
I certainly would not trust this knife for self-defense. Considering the lack of faith Coldsteel shows in their
warranty.
---
Comment by Bird 06/17/2015
I agree with the first commenter. Doesn't feel cheaply made at all though the price for the knife is cheap. You blame the knife and the manufacturers yet you have not done your research.
---
Comment by CSharp; 10/24/2014
The phrase "faux g10" is in the specs on cold steel's website (as well as most dealer's product descriptions) along with the word "grivory" next to "handle material". And it seems Cold Steel's warranty has been revised, so that there's no time limit. You're blaming the knife for your lack of proper research. I'm curious what it was about the knife (other than the warranty at the time) made you think this knife would be less than adequate with which to stab or slash at someone? Did it flex in your bare hands? Were you able to bend or break the tip somehow? Your review is the first I've seen with the claim that it looks and feels cheaply made. Were the scales not flush with the handle? Were there mold marks of some kind? Were there scratches on the blade? Were the screws holding the scales in place rusty or loose out of the box? I'll admit, I don't have this knife. But I did get a Hold Out III recently; my first Cold Steel knife and it comes after a Spyderco Delica and a Benchmade Mini Grip, and while it doesn't compare steel-wise to those two knives, the fit and finish seem excellent, especially for a knife that cost me well under $50. The handles on this knife *are* G10, which is quite a step up from the *pinned*, linerless, apparently washerless FRN that was used in my first generation Delica (*gags, spits*).