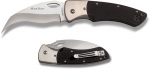 -Price Paid: N/A
-Used for Self Defense
-Owned for 6 months
Comments:
I've only had this knife for a little over six months now but it is one of my favorites. I use it for self defense. It is strictly a slicing knife and not good for stabbing. which is the main reason i carry it on my support side. works perfect for righties who carry knives with an earth grip with their support hands. Fortunately i have not had to use the knife to defend myself so i cannot say how it holds up to wear and tear. the blade has a very smooth action when opening and closing. the only flaw i can find in it is a personal thing. i like the thumb stud as opposed to the hole in the blade but its a minor minor set back and did not turn me away from the knife. the handle of the knife has a great feel and will not slip even if the situation becomes bloody. here are the official specs of the knife.
Blade Thick: 4mm
Blade Length: 4"
Handle: 5 1/4" long G-10 w/titanium bolsters
Overall length: 9 1/4"
Weight: 6.6 oz
Steel: San Mai III
Polished Stainless Steel Pocket Clip