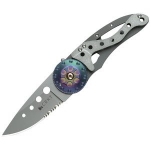 -Price Paid: N/A
-Used for Light Duty/General
-Owned for Greater than 1 year
Comments:
I've had this knife for about two years, and it's held up great. The blade is sharp and holds a good edge.
The only thing I don't like about it is the locking mechanism. After opening the blade you have to slide a little clip into place in order to lock it. It's kind of a pain to slide and unslide. I even cut my thumb on the slider once.
Other than that I have no complaints. It's nice looking, fit's well in my hand and has a nice blade.
---
Comment by knife guy 07/31/2012
Assist system is nice, although it requires way too much for to actuate. I bought it new from woot.com for $25. The build is solid, but out of the box i don't believe its worth the price. My wife couldnt open it one handed. Not much more than a collectors piece imo