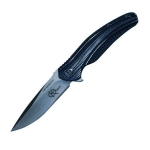 -Price Paid: $30.00
-Used for Every Day Carry
-Owned for Less than 1 Month
Comments:
DISCLAIMER** - I have the cheaper $30 dollar version of this knife with the Aus 4 steel and the FRN handles, just a heads up!.....Anyway! This is actually a neat knife, but I do have a serious love/hate relationship with this knife. The blade steel isn't top notch, but hey, its $30, and it gets razor sharp, just needs sharpened often. The look of this knife can be very off putting, as Nutnfancy said, it's kind of like Alien vs. Predator status. The clip is pretty ugly and the insides of the scales are kinda sharp and not rounded.
Now on to the positives! The best feature by far is the IKBS opening system, essentially CRKT put a skateboard bearing in the pivot causing a smooth and easy open with just the press of the lever on the spine. (This knife is NOT an assist open or automatic) The blade is a modified drop point with nice rounding on the top of the blade, a pretty nice touch. No blade play whatsoever, and overall good design. Another positive is how the knife looks! Sometimes I hate it and sometimes I love it, its hard to describe. But to the truly important part, the ergonomics are pretty nice, jimping is good, and the knife just fits into your hand nice and firm. The knife is also pretty lightweight.
One last note, I have no clue about the durability of this knife, the blade is held open entirely by the liner lock, there is no bar in the spine of the knife that stops the blade from continuing backwards. Although the liner lock does hold it in place pretty firm, I'm just questioning its long-term durability.
This might seem weird, but I'd recommend buying the $30 version before buying the more expensive models. This knife can definitely be off putting to a lot of knife enthusiasts, and sometimes its kind of hard to tell from looking at it on the internet. But all in all, its a solid knife in my book. So I definitely recommend!
---
Comment by Wags 06/08/2014
This model of knife doesn't have FRN handles. The cheaper version has aluminum handles and cr14mov steel. If you're just going to copy previous information at least get the correct knife.