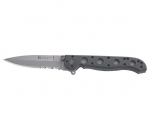 -Price Paid: N/A
-Used for Every Day Carry
-Owned for Greater than 1 year
Comments:
I've owned the CRKT m16-13z knife for about 2 years now. This is actually the second one I owned since the first one was lost when I went on a fire department ride along. So far I've been very satisfied with this knife. I really love the blade shape, the autoLAWK feature, the steel that is used as well as the quick open feature. The knife seems to stay sharp for a decent amount of time even with heavy use.
The serrations have also stayed sharp, although if I were to buy another knife I think I would just get a plain blade. I think that this knife is primarily a work EDC knife, but I could also see it functioning in a self defense scenario.
Right now my only gripe is the autoLAWK system seems to get dirt and grime where the blade pivots. I noticed this whenever I go to the beach so I've stopped taking my knife there when I go. I once took apart my blade to clean it out and I could barely get it put back together.
My only other complaint is you cannot switch which side the pocket clip is on. Right now it seems like it is not in a very intuitive place, I would much rather have it be on the other side of the knife so I could carry the blade tip up when closed. That would add to faster deployment. Not a big deal, but sizable enough to mention.
The grip is also not very good. I believe the handle is made out of aluminum which is fine when you are in a dry situation, but if you get mud, grease or blood on your knife I think you will have a hard time holding onto it.
Overall it is a very good knife and it is the one I carry with me every day. It sharpens easy and holds an edge well, and the autoLAWK feature, although complicated, gives me a lot of security since it makes the knife a virtual fixed blade by utilizing two separate locking mechanisms. For the price I think it is a great knife for your average joe.
---
Comment by Gary 10/11/2014
Recently I was looking for something to use on camping trips that could take some abuse. I really liked the looks of CRKT's M16 "spear point" knives, but wanted to avoid AUS4 at all costs. I got lucky