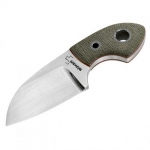 -Price Paid: $25.00
-Used for Every Day Carry
-Owned for Less than 1 Month
Comments:
Overall this a great little knife. The sheath was my only minor gripe...out of the box I put the knife in the sheath and could not remove it at all. I had to heat the sheath up a bit to where the knife would go in and out easy enough while still being very secure.
Very well built, grind lines while not perfect, are exceptionally good for any production knife. The handles are very well fitted to the tang, nice and flush.
Ergos---Feels very good and secure considering it is a one finger grip...Would not want to use it for hours on end, but you could if you had to. The corners on the spine are a tad sharp but I suspect any smoothing would up the price.
One of Bokers coolest little knives.