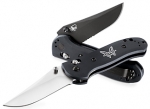 -Price Paid: N/A
-Used for Every Day Carry
-Owned for Greater than 1 year
Comments:
I have owned this knife and carried it for more than 9 years. The Axis lock intrigued me right away. I like the ambidextrous features (I am right handed), the very solid lockup, and the ease of use. The knife has a 3.25" plain-edge blade made of ATS-34 steel. From what I have read online, it is almost the same as 154CM, but it is supposed to be able to hold a better luster (or something like that). Mine is the version with the aluminum handle; it was also offered with a G-10 handle. I carry it tip-down and that's how it came from the factory. This is one of the early 720s, which could be configured for tip-up or tip-down carry. I believe the later ones allowed only tip-up carry, but the clip was reversible to either side. The knife was offered with some graphics options (red, white, and blue, black with white butterfly, etc.) but mine is plain, black, anodized aluminum. I believe the knife does not have a type 3 hard anodized finish as mine has scratched over the years from pocket carry.
I like:
The features that drew me to the knife are the Axis lock, the ergonomics and how it fit my hand, the "just right" size of the blade, and the very solid feel of the aluminum handle. The knife is very smooth to open and close, compared to many of the other knives I had looked at. It is heavy at 4.3oz, but it just feels so solid. The blade uses a bowie style blade (I'd probably prefer a drop point, but I don't pry with my knives anyways) with a partial flat grind and a slight recurve. I like how the slight recurve aids in some types of cuts. Some non-aggressive jimping allows for a little better grip on the index finger and on the back of the handle and blade. The jimping is just ok. I think the balance of this knife is very good. It balances just behind the pivot. The smooth Al handle means that it will not tear up your pant's pockets.
I sharpen with a Lansky sharpener and I use 20 degrees per side. I find that edge retention is good. Resistance to blade chipping is very good. I don't baton with it nor do I attempt to cut through nails (or other abuse). On two occasions I have watched friends drop my knife onto bare concrete. One of those falls was from chest height and had the knife landing directly on the tip. There was dulling to the point, but no chipping. I promptly asked to have my knife back.
I dislike:
Not much! I am being picky here... For its size, this knife is a bit heavy. After all my use and carrying, I would say that the weight is only a minor concern. The weight is never noticeable in jeans. However, when wearing dress pants, the knife is too heavy. It is not a great dress knife. That's the price you pay for a very solid feel. If I had my choice, I would prefer a drop point rather than a bowie style point. I don't abuse this knife or pry with it, but a drop point would give me a little more tip strength and piece of mind (mainly for when my friends ask to see my knife). On the plus side, the bowie style tip allows for easy piercing when opening packages. The G-10 version is very attractive for the added traction the scales would offer. This knife is a bit smooth in the hand.
This knife has been discontinued for many years. However, if you want a very solid feeling knife with a bowie tip that is great for stab-type cuts, this is a great option. I'm sure this can still be found on auctions and I have seen it at gun shows ($90-175 at the last show, Nov '09). I think retail for my version was about $155 when it was in production. I paid $105.
Overall, I really like this knife. I am a tough critic. The main drawbacks are weight (it isn't ideal for a dress knife), smooth grip surface, and ultimate tip strength.