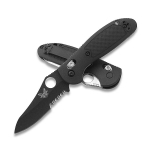 -Price Paid: N/A
-Used for Every Day Carry
-Owned for Greater than 1 year
Comments:
This knife is a surprising value. It may be one of the least expensive blue-class Benchmade knives, but it is far from the cheapest (quality-wise).
I've had my 555HG for almost 2 years now, and it has been in my front pocket almost every day, sharing the spot with my 585 mini-Barrage.
This knife fits the hand very well, and the opening hole is very easy to use. The 154CM steel holds its edge quite well and is easy to sharpen. Blade shape is an excellent modified sheepsfoot design that provides a great range of usefulness.
The only downside to the mini-Griptilian is also one of its most handy features -- the Valox handle scales. The handle scales have a great gripping pattern, providing plenty of traction when using the knife under pressure, even when wet. Valox is very durable and tough, but the handle scales sound hollow when opening the knife with a wrist flick. The knife would be improved dramatically if it came with G10 scales.