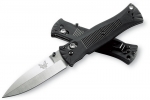 -Price Paid: $66.00
-Used for Every Day Carry
-Owned for Less than 1 Month
Comments:
First impression: nicely made for the price. Good balance and eye-pleasing proportions. I am very impressed with the AXIS lock mechanism - blade locks open tight, with no play, and can safely be folded with one hand. Pared down to the bare essentials in materials, this knife is light and slim - a delight to carry. Feels almost too slim in my largish hand, but is comfortable enough for the light duties of an urban EDC. Grippy surface texture of handle is a plus.
Right carry, tip up, makes the knife very accessible for me, but with one serious flaw. It ain't that easy to open. First, the blade is almost too light to fling open, unless by an extreme arm and wrist movement of the kind that can result in a visit to the chiropractor. Conventional, one-handed opening is difficult because the thumb stud is too short and rests too close to the handle. It's hard to find the thumb stud by feel, and after fumbling around to find it, a painful amount of effort is required to push the blade open - not because the joint is stiff (it's not), but because you must push down hard on the little stud to get enough friction.
Before modification, the only way I could open the blade one-handed was to scoot my thumbnail across the handle until it found the thin gap between the handle and the blade-stud - then use the back (top) of my thumbnail to push the stud open - tricky. After I used a rotary tool with a sanding bit to grind away a little scoop in the handle, one-handed opening is now much improved. Photos of my handle modification here (copy and paste into your browser):
http://garywright.smugmug.com/Other/Benchmade-530-Pardue/21405178_jhfCQh
Keep an eye on the thumb stud, mine started to come loose during the first week of use. I didn't have a wrench to fit (possibly a T6?), so I carefully tightened it with pilers (not recommended).
The sliding AXIS lock/release button is also a wee bit too short and lacks texture, but this is much less of a problem than the thumb stud. I doubt that this knife will ever be opened or closed by anyone wearing gloves.
Factory edge was arm shaving decent, but who cares? Like I'm going to carry a knife with a factory edge? The puddle of water on my hard Arkansas stone was not turning black fast enough to suit me, so I switched over to my Spyderco ceramics - medium (gray) and fine (white). A few minutes later the factory grind marks were gone, and a few licks on a leather strop resulted in a polished edge. Not really that much sharper than factory, but I prefer a smooth cutting edge to the faux-sharpness resulting from the micro serrations of the factory grind. I've never owned any steel better than this 154CM, but comparing my first edge on the 530 to what I'm used to from Opinel carbon, Swiss Army stainless, Case carbon, Buck stainless, Gerber Portland stainless, etc. - the 154CM seems very nice indeed.
The blade shape and size are very functional for the kind of light-duty urban uses I've tried so far (opening letters and packaging, breaking down boxes, fingernail maintenance, scraping sticker goo from hard surfaces, working up the fruit and cheese in my lunch box, etc.).
I haven't made up my mind yet about the symmetrical, spear-point blade shape (it's sharpened on one side, only). I never get confused about which edge is the sharp one if I pull the knife from my pocket and go directly to the task at hand. However, if I lay the knife down, then pick it up a few moments later, I have to remember to visually check the orientation. No great harm done if I try to cut an apple with the back side of the blade - I am more concerned about the possibility of trying to fold it with the sharp side up.
Too soon for me to say anything about durability and edge holding. After a month of light use, it was slightly less sharp. Second sharpening was even better than the first. A few licks on my fine diamond followed by a quick polish on the white ceramic, and it was sharper than ever in less than 2 minutes.
Bottom line: I really like this knife (much more so after 'fixing' the poor thumb stud access). I got a 551 Griptilian on the same day as this one. The 551 opens easier than the 530 Purdue, and feels more satisfying in my hand (better ergonomics) - but I haven't carried it once due to it's extra size and weight. I may one day favor the Griptilian for camping and farm work, but around town, It's the 530 that goes into my pocket every day.
---
Comment by Paul 11/29/2014
Thanks for the explanation of how to modify the 530 to make it easier to open. I had exactly the same reaction to the knife as you: I love how thin and lightweight it is, but it is harder to open than other Benchmades. All it needs is a little more room between the thumb stud and the handle. Great review.