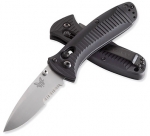 -Price Paid: N/A
-Used for Every Day Carry
-Owned for Greater than 1 year
Comments:
There is no doubt that I am a huge fan of Benchmade and despite what I am about to say regarding the 525 Model I still am..:)
I think that the 525 is the biggest marketing mistake that they have ever made and the resale values reflect it.
Firstly looking at the knife it's self after using one it's greatest flaw is the Coating on the scales, it just wont stand up to ware and rubs off at the drop of a hat.
My point being that when you compare the price of there 527 Ultra Model to the 525 it's very difficult to justify the enormous price difference and what do you get for the price difference of $95.00 for the basic 527 and $175 for the basic 525 (that's almost DOUBLE).
Basically they are same sized knife with Benchmades FANTASTIC Axis Locking System however the 525 has 154 Steel and the 527 has 404, then the 525 has Aluminum Handles that loses it's coating and the 527 has Solid Valox that doesn't lose it's color.
I haven't meet any one that's been really unhappy with a Benchmade Knife that uses 404 Steel, but I have meet many that are extremely unhappy with the black coating rubbing off there scales exposing the aluminum.
For EDC the 527 is actually lighter compared to the 525 and the 527 has better traction and ergonomics in your hand.
In all honestly I can't see the value in the 525 and have noticed that being reflected there second hand sale prices.
I personally almost feel like Benchmade has shoot it's self in the foot by bringing out both models and I now only buy the 527 Models as gifts for friends and every one that I have given one too loves them.
Perhaps the 520 and 525 should have stayed as Military and Police Automatic Models ONLY, BUT my God if they can now produce Frying Pans with a coating that can stand up to even heavy "Sand Paper" endurance tests.
Then Benchmade should be able to apply a more durable coating to it's 525 and 520 Scales, especially if these models are to be used for "HEAVY almost Commercial use" in the Military or Police Forces...!!