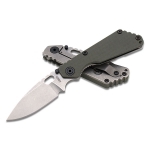 -Price Paid: $400.00
-Used for Every Day Carry
-Owned for 3 months
Comments:
I have a love/hate relationship with this knife. It has it's flaws but the more I use it the more I love it. It is important for me to state that a buyer needs to know what they're getting into before they plonk the cash down.
In terms of build quality it's a mixed bag. Why? It all depends on the unit you receive. Strider's are not known for their fantastic fit and finish. In fact this is their weakest area. Blade might not be center, lockup might be spotty, edge geometry might be thick. Now some may flame me for being harsh, but when a knife is $400 those are things that I do look for. Thankfully my SnG was not too bad. The pivot needed to be tightened, the edge re-profiled, and the clip bent into place. Once that was done I could begin appreciating the knife. I would try and handle the knife before paying for it, or specify to the dealer of particular features you are looking for. My PT wasn't as well built.
Another thing is cost. While I'm happy with my SnG I have a hard time saying that it's a great buy for $400. I love this blade (whether sane or not) but it's hardly a 'deal'. I would suggest those new to Striders to look on the secondary market. You save a fair bit of cash, and you can always ask about things such as lockup etc.
In terms of Ergonomics I would say it's quite good. You have the ability to choke up and gain control, or hold it further back. The choil is generous and the jimping functional. The SnG is very comfortable in reverse grip and is relatively easy to operate with gloves. I personally think a circular hole is better, but the oval hole is still superior to the thumbstud with gloves on. The only complaint is that there is a hotspot (lego version) when holding the knife hard in the choked up position. This does bother during hard use with bare hands. Other than that it is quite nice.
Blade is S30V with my favorite Heat treatment with a Full Flat grind. With a re-profiling it cuts very well. Love that performance. Operation is smooth (once broken in)and weight is decent.
This is a strange knife for me. Even though I mentioned a fair amount of negatives I still rank this in my top 3 favorite knives. The more I use it the more I love it. Might just be a psychological reaction to justify the $400 but I don't see myself getting rid of it anytime soon.
My advise is to try and hold one before buying. Make sure it is right for you. At this point and time there is a lot of good competition. Buy this knife if you really 'feel' it. That intrinsic feeling is what makes this knife worthwhile for me. It's a well built, though as nails knife which makes me feel like a bad-ass. Be picky on your unit and you should be fine.