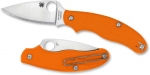 -Price Paid: N/A
-Used for Every Day Carry
-Owned for 3 months
Comments:
The Spyderco United Kingdom Pen Knife (UKPK) is a phenomenal cutting tool.
The quality, like all of my premium Spydercos, is first rate. The UKPK's G10 handles are perfectly finished with excellent checkering that provides a great purchase, but it is not overly aggressive to the point where it would tear the pocket. My example also had perfect blade centering, a very smooth action, perfectly flush back spring, and an extremely sharp factory edge. No complaints whatsoever with the quality or the materials.
I have carried this knife quite regularly for several months and I remain impressed with the non-locking notch-joint mechanism. It operates smoothly, and it is surprisingly secure. I am very satisfied with the amount of force it takes to fold the knife closed. It requires more force than most other slip joints, but not so much force that it is difficult to disengage the blade. I have never had the blade fold during use, not even while slicing thick cardboard. The deep choil ensures that even if the blade does fold, the hand will be spared from cuts.
Typical of Spyderco, the UKPK has phenomenal ergonomics and cutting performance. The handle is perfectly shaped, and the jimped thumb ramp and large choil ensure an extremely comfortable and secure grip.
The full flat ground CPM-S30V blade has extraordinary slicing ability, and the steel is phenomenal, with great edge retention and corrosion resistance.
Finally, the pocket clip is strong, and the knife carries light and inconspicuously due to the high mounted clip.
Overall, this is a sublime cutting tool. While I initially though that I would dislike the lack of a lock, it has turned out to be a non-issue for normal EDC tasks. This is is a great choice not only for areas with strict blade laws but also for those who want a premium quality pocket knife that is simple and extremely functional. It is an exceptional choice for office use or EDC in an urban environment.