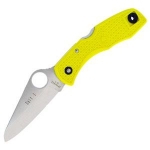 -Price Paid: $40.00
-Used for Light Duty/General
-Owned for Greater than 1 year
Comments:
A knife that doesn't rust - had to have one.
As I carry a knife everywhere, I needed something that I could swim with. After 2 years in the water, not a speck of rust is to be found. Amazing.
I picked this knife up used at a great price and didn't expect much. It is light, slim, and fits my hand nicely.
The blade shape gives a lot of useful cutting edge and the handle feels really nice when using it for all tasks, large and small.
I was worried that I wouldn't be able to get a good edge on it.
A few minutes on the stones gave me a razor.
I was worried that it wouldn't hold the edge. It holds pretty well, about like a well heat treated 440C.
The only thing I don't like about this knife is that the pool water has left a white deposit in the recesses of the handle that I can't get out and I can't take it apart because it is riveted together.